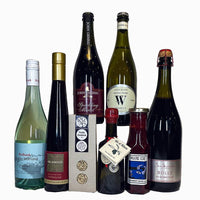 Christmas Festive Pack
High Country
#twohoursout
Made to order
Sent within 1 to 2 days
Locally made
Local ingredients or materials
A perfect way to celebrate this festive season.
4 bottles of wine plus produce:
WoodPark Wine Prosecco

Sam Miranda Sparkling Shiraz Durif

John Gehrig Wines Sparkling Merlot ( sadly out of stock) replaced with John Gehrig Wines 2019 Pinot Noir
Redbank Wines - Pinot Gris
WoodPark Wine - Red Wine Vinegar
Milawa Olive shop - Dukkah & Olive Oil
Blue Ox Berry sauce.
Note: wine brands and vintages may change due to supply and season
It is against the law to sell or supply alcohol to, or to obtain alcohol on behalf of, a person under the age of 18 years. By purchasing you confirm that you are over the age of 18. Wines products produced by listed wineries & hampers packed by John Gehrig Wines , 80 Gehrigs Lane Oxley Vic 3678. Liquor license number: 32800618
Milawa Gourmet Region - Producers - Milawa Gourmet Region
One of Victoria's first gourmet regions, conceived in 1994 which is centred around the townships of Oxley, Milawa, Tarrawingee, Markwood & Whorouly. The region is home to numerous fine food producers plus a number of Australia's leading wineries. The Milawa Gourmet Region is the perfect backdrop to the makers of fine food, wine & craft. If you want to come to discover the region plenty of accommodation to choose from too.
---