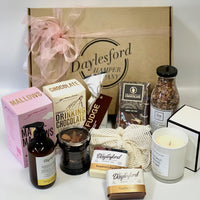 Relax & Indulge
Daylesford-Macedon
#onehourout
Made to order
Sent within 1 to 2 days
Locally made
Local ingredients or materials
There's nothing more luxurious than an excuse to sit back, relax, and truly shake off all life's stresses. This Daylesford Hamper Co hamper is filled with pampering goodies are handmade right here in the Daylesford Macedon Ranges for an excuse to do just that!

Drinking Chocolate 200g by Grounded Pleasures This is one of the most pure and sumptuous chocolate experiences you can find. It is sourced from the best cocoa growing regions. It exhibits all the hallmarks of superb Forastero cocoa beans and a hit of Trinitario cocoa beans, with delightfully high fruity notes. An intense dark chocolate experience, deep and powerful, with delightful hints of plum, dried cherry and sun-dried muscatels. It finishes off with an amazing textural resonance on the tongue and in the mouth that echoes delightfully for an age.

Marshmallows 140g by Grounded Pleasures The divine joy of tasting the sweet, velvety and luscious texture of a melting marshmallow immersed in hot chocolate cannot be surpassed. Hot chocolate and marshmallows are a perfect match and we gladly concede that it is hard to have one without the other.

Chocolate Fudge 105g by Fudge by Rich A deliciously smooth and Rich chocolate fudge. This fudge melts in your mouth and its silky smooth in texture will leave you coming back for more.

Roses are Red chocolate block 100g by The Ministry of Chocolate Milk couverture bar, with candied orange, pistachios, violet crisp and rose crisp with lashings of white chocolate.

Dark Chocolate Mendiants 115g by Charlotte Piper Charlotte Piper are a small family-owned boutique fudge making business who have mastered the art of fine fudge and quality chocolate. Not just bringing you the freshest fudge flavours, they also have four generations of food manufacturing under their belt to combine their experience and knowledge of handmade sweets, offering you the very best temptations.

Hand & Body lotion 250ml by Daylesford Soap Co. Rich heavenly scented indulgent lotion. Your skin will thank you.

Bath Soak salts 500g by Daylesford Apothecary Elevate your bathing experience with this Rose Quartz essence Bath Soak. A blend of Epsom and Pink Himalayan salt are hand blended with beautiful rose petals and scented with our delicious Rose Quartz essential oil blend which works synergistically to lift the mood, calm the body and tap into a higher state of love, particularly for oneself.

2 x Hand Crafted soaps 140g each by Daylesford Soap Co. Indulge in the luxury of artisan - crafted small batch soaps. Made with the purest ingredients and fragrances. Your skin will thank you.

Coconut, Mango & Lime handmade soy wax candle by Daylesford Bath & Body This soothing candle combines a luscious blend of juicy citrus fruits, including lemon and lime, delicately intertwined with a heart of creamy coconut . An antidote to stress and instant mood lifter . Natural soy wax candle lovingly hand poured in Daylesford.

Ramie Bath Mop/ natural loofah by Star & Rose Made from 100% Ramie, a natural plant fibre resistant to bacteria and mildew, it is super strong and extremely soft even when wet and does not shrink. Designed to enhance your overall well-being, making your skin feel refreshed and transformed while revitalizing your body and relaxing your mind.

All hampers include a handmade gift card with your personalised message and are presented ribbon wrapped in our company hamper box.
Daylesford Hamper Company
We are a family-owned and operated business offering high-quality produce and gift hampers. We are local, passionate people focusing on regional products from small makers around Daylesford and regional Victoria.
We source some of the finest quality products to make hampers with love from Daylesford.
---