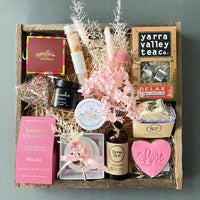 Relax! You've Got This!
Yarra Valley & Dandenong Ranges
#onehourout
Made to order
Sent within 1 to 2 days
Locally made
Local ingredients or materials
Ministry of Chocolate - Rainbow Milk Choc Lollipop 
Yarra Valley Chocolaterie - 4 pack of solid Choc hearts
Yarra Valley Tea - Relax organic calming tea bags
House of Gingerbread - Love Heart Gingerbread Cookie
Yarra Mist - Relaxing Spray
Yarra Mist - Relaxing Soap
Yarra Valley Bath & Body - Shower Steamers 'twin pack'
Yarra Valley Bath & Body - Shower Steamer floral & dish
Exquisitely Lavish - Champagne & Strawberries Scented Candle 
Exquisitely Lavish - remedial bath salts
Warbotanicals - Organic Hemp Hand Cream
Floral Posy
Specifications
White magnetic close hamper box, width is 25cm, length is 35cm, height is 10cm, weight is 1.2kg
YV Hampers
Having been a chef in the Yarra Valley for over 8 years, including 6 years as Head Chef at Oakridge Winery, Ritchie has always had a passion for the regions produce.
Ritchie wanted to put together a collection of Yarra Valleys best products and feature these in premium gourmet hampers.
Just over 2 years ago (pre-COVID) YV HAMPERS was launched in time for Fathers Day 2019, which was very well received.
Ritchie is continually sourcing local products from artisan producers in the region and currently has over 40 local suppliers featured in their hamper collection.
---