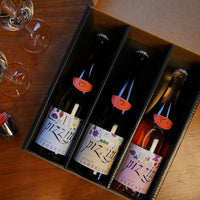 Sparkling Trio Gift Pack
High Country
#threehoursout
Sent within 2 business days
Locally made
Local ingredients or materials
We're all about keeping hydrated! This simple but lovely pack includes sparkling varieties for you to try and love, or to gift to a fan of sparkling. The grapes for each wine are grown on the Pizzini property in the King Valley and the wine is created by and produced by our winemaker, Joel Pizzini.
Our gift packs are personally created and packaged with care. A gift card can be added at no additional cost.
Your pack contains:
NV Pizzini Prosecco: a fun Italian style sparkling with a lemony, dry finish
2021 Lambrusco: ruby red in colour, full-bodied and juicy without being sweet
2022 Brachetto: lightly sparkling pink Moscato style. Refreshing sweet and gentle on the palate.
Try the Brachetto with fresh mint, a slice of ginger and a wedge of lime over ice!
Specifications
A personalised gift card can be added (complimentary)
Pizzini sparkling wines are made from grapes grown on the property
Personally gift-wrapped and packed with care
Australia-wide shipping
Pizzini Wines - Pizzini Wines
We are Italian at heart inspired by growing, making, eating, drinking and friendship. We planted our vines more than 30 years ago and continue to grow the finest Italian varietal wines right here in the King Valley.
Our A tavola! products are bursting with freshness and flavour. They are made onsite in the Pizzini kitchen using fresh local supplies or produce picked straight from the property's kitchen gardens.
Welcome to the family!
---