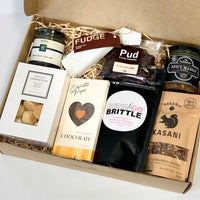 Sweet & Savoury Hamper
Daylesford-Macedon
#onehourout
Made to order
Sent within 1 to 2 days
Locally made
The most delightful variety of treats guaranteed to satisfy every craving, packed full of our Australian made sweets & savoury snacks. There really is something to please everybody! Handmade right here in the Daylesford Macedon Ranges & regional Victoria for an extra special touch.

Satisfy their heart's desires with a Daylesford Hamper Co Sweet & Savoury Hamper today. Perfect for Birthdays, Congratulations or sharing with friends just because.

Peanut Brittle by Bendigo Brittle Handmade in Bendigo, GLUTEN FREE, brittle-brittle – the way peanut brittle ought-to-be. Thin, crisp, and crunchy. Made from quality ingredients and Australian peanuts. Makes an ideal snack or BONZA gift, compact in size, travels well, it really is … GOLD FOR YOUR GOB

Spiced Nuts 70g by Kasani Kasani Nuts, based in Clunes, who are coming to the market for the first time this Saturday. Made from all-organic ingredients, Kasani Nuts are a flavour burst - containing a mix of walnuts, almonds, cashews, pecans and pistachios roasted with coconut, maple syrup and spices. (Yes, they are vegan!)

Olive Tapenade 160g by Barfold Olives Freshly produced in small batches from traditionally pickled green or black olives.

Green: The flesh of green olives is combined with selected herbs, garlic and capers to produce a traditional French styled tapenade.

Black: The flesh of black olives combined with cracked pepper and lemon juice to produce a tasty tapenade with zing!

Chocolate Fudge 105g by Fudge by Rich A deliciously smooth and Rich chocolate fudge. This fudge melts in your mouth and its silky smooth in texture will leave you coming back for more.

Spicey Mango Chutney 280g by Josh & Sue Made in Regional Victoria to Josh&Sue's family recipes. Spicy Mango Chutney is great on Indian food. Delicious condiment for Indian meals or served with your favourite crusty bread and cheese

Fruity Pebbles 100g by PUD for all Seasons Based in Castlemaine, Pud For All Seasons delivers old favourites and new classics to your door - from mouthwatering traditional Christmas puddings to date and butterscotch, double choc orange, cranberry and white chocolate, and more!

Milk Chocolate 100g by Charlotte Piper Charlotte Piper are a small family-owned boutique fudge making business who have mastered the art of fine fudge and quality chocolate. Not just bringing you the freshest fudge flavours, they also have four generations of food manufacturing under their belt to combine their experience and knowledge of handmade sweets, offering you the very best temptations.

Cheescuits 180g by Beatties Biscuits From the original recipe handed down from my grandmother. Using mature cheddar, parmesan and Gippsland butter and flour with a touch of cayenne. The biscuit is short and crumbly with a rich cheese flavour and a spicy finish. Cheescuits can be warmed in an oven or microwave.

All hampers include a handmade gift card with your personalised message and are presented ribbon wrapped in our company hamper box.
Daylesford Hamper Company
We are a family-owned and operated business offering high-quality produce and gift hampers. We are local, passionate people focusing on regional products from small makers around Daylesford and regional Victoria.
We source some of the finest quality products to make hampers with love from Daylesford.
---