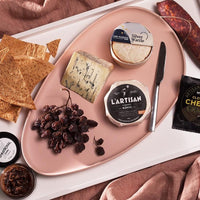 Christmas Cheese Box
Everywhere
#onehourout
Shipped in 4 to 6 days or use message box to request pre-Christmas delivery
Locally made
Local ingredients or materials
Whether it's a gift for yourself, someone you love or just one amazing start to a Xmas lunch... this cheese box from One Hour Out has it all.
Especially curated by the OHO team, this collection of artisan cheese, crackers and other goodies are all sourced from some of our favourite Victorian producers. The cheese selection is the perfect blend of complex and down-to-earth flavours. 
Here's what's in the Xmas cheese box:
Long Paddock - Silver Wattle Brie – 140g
Our soft bloomy lactic cheese in the style of St Marcellin . With a soft mousse-like texture, delicate thin rind bloomed with geotrichum, becoming creamy and oozy as it ages outside in. Fudgy, fresh, mild, and lemony when young. Soft, creamy, yeasty, and pungent when ripe.
Berrys Creek - Tarwin Blue - 150g
Like the Tarwin River, this highly awarded flagship cheese reflects earthy qualities especially on maturity with a lasting intensity and a texture full of soft, smooth appeal.
L'Artisan - Marcel Brie – 180g
Wrinkly, white, deviant. The wild child of our family, Marcel is a little 'deviant'. Beyond his oddly intense character, he can be so soft and pleasant that everyone loves him.
Maffra Cheese - Cloth Aged Cheddar - 150g
The cheese has a firm yet buttery texture with a subtle creamy straw colour paste. Each cheese wheel is aged under an ashed cloth to allow formation of a thin rind and carefully matured to its optimal age between 18 months to two years.
Puopolo - Hungarian Smoked Salami - 200g
Our Hungarian salami is smoked over beechwood, and is flavoured with sweet paprika, garlic and black pepper. It is perfect with a red or fortified wine, alongside a grazing platter.
Pennyroyal - Fig Jam - 140g
A delicious, versatile preserve made with fresh figs and very rich in flavour. Goes well with either sweet or savoury. Great served with cheese and crackers or served on toast. It Is also a wonderful addition to baked cakes, muffins and puddings.
Try it with blue cheese and ham wrapped and baked in filo pastry.
Pennyroyal Farm - Garlic Olive Parmesan Pita Crisps - 120g
Garlic Olive Parmesan Pita Crisps. Perfectly complement our range. Australian-made and owned.
The Food Purveyor - Muscatels - 200g
Totally natural and utterly delicious, honey-sweet dried muscatel clusters are perfect with blues and sharp cheddar.
Cold-Storage Delivery
Our cold-storage transport partners will be delivering Xmas orders in the 2nd and 3rd week of December.
Please check delivery days and fee by using the postcode checker in the 'Shipping' tab on this page.l
You will receive a notification for when your order is sent out for delivery.
Bulk Orders
For large corporate orders on invoice, please contact our Corporate Orders team
https://share.hsforms.com/1j5nPp4tNQ1is-oUeFKBD2g1bxz5
Specifications
All products made by regional Victorian producers
Option to include a hand-written message at checkout
Packed in beautiful packaging and shipped off with love and care
Please note: due to supplier delays, some substituting with items of same or greater value may occur
One Hour Out is your connection with what's happening in regional Victoria.

We are on a journey to document the stories of all the people and places that make regional Victoria so vibrant.

From time to time we pull together a collection of hand-made artisan products from regional Victoria and offer them for sale on our online country market place.

Buy local and let's make the world a better place.
Check that chilled items can be delivered to your address
Check
---