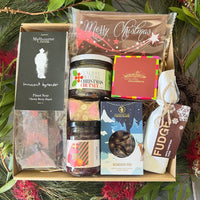 Christmas - Yarra Valley Christmas Hamper
Yarra Valley & Dandenong Ranges
#onehourout
Made to order
Sent within 1 to 2 days
Locally made
Local ingredients or materials
Featuring all Yarra Valley artisan products:
The perfect gift to send Australia wide
Packaged in cardboard presentation box with clear lid
Cunliffe & Waters : Christmas Chutney 350g
Ministry of Chocolate : Merry Christmas Milk Couverture Bar 100g
Ministry of Chocolate : 'Reindeer Poo' (Milk Chocolate Sultanas) 150g
Yarra Valley Chocolaterie : Rocky Road
Yarra Valley Chocolaterie : 4 pack of Milk, Dark & White Chocolate Hearts
Fudge By Rich : White Christmas Fudge Bar 110g
Melbourne Cocoa : Innocent Bystander Pinot Noir Cherry Berry Shards
Four Pillars : Sour Cherry & Fresh Yuzu Apple Relish
Specifications
9cm height
2kg weight
Kraft hamper box with clear lid
30cm width
YV Hampers
Having been a chef in the Yarra Valley for over 8 years, including 6 years as Head Chef at Oakridge Winery, Ritchie has always had a passion for the regions produce.
Ritchie wanted to put together a collection of Yarra Valleys best products and feature these in premium gourmet hampers.
Just over 2 years ago (pre-COVID) YV HAMPERS was launched in time for Fathers Day 2019, which was very well received.
Ritchie is continually sourcing local products from artisan producers in the region and currently has over 40 local suppliers featured in their hamper collection.
---