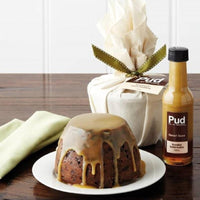 Pud and Sauce Deal
Goldfields
#onehourout
Sent within 2 business days
Locally made
Local ingredients or materials
1 x 800g Traditional Plum Pudding
1 x 150ml Brandied Butterscotch Sauce
Grandma's award winning Plum Pudding teamed with our most popular Dessert Sauce - you will be very popular serving this up for Christmas Day!
Karen Kelly - Pud for all Seasons
The basic ingredients for Karen's award-winning business came together 19 years ago when Karen's Grandma taught Karen how to make puddings for the family. One Christmas, a friend asked Karen to make something "Christmassy " to sell at her Buda Historic Home fundraising event. Karen suggested puddings and her pudding business has steadily grown from there.
Karen and her husband, Gerard, moved from the corporate world in Melbourne to Elphinstone in 2000. At first, the business operated from Karen's home but it eventually took over the family kitchen....and the dining room as well! When the wood in her kitchen started to swell from all the constant steaming Karen knew it was time to find a commercial space.
Fortunately, Workspace Australia was running the old Castlemaine Hospital as an enterprise centre for start-up businesses. The old hospital kitchen was perfect for Karen to move the business into and she could share it with another business to help with the rent. The support and mentoring Karen received from Workspace has been invaluable and has played an integral part in why PUD FOR ALL SEASONS has become so successful.
Now, here they are, 19 years later, supplying a range of delicious pudding varieties (including vegan and dairy-free versions) and dessert sauces Australia wide. They have also won many awards for their traditional plum puddings, including a Gold medal in the Australian Food Awards. Karen's Grandma would be amazed!
PUD FOR ALL SEASONS hand makes everything the old-fashioned way using quality ingredients. Karen is passionate about using Australian ingredients sourced as locally as possible no matter what the cost. Karen and the team peel and grate the apples, crumb their own breadcrumbs and use free-range eggs in their recipe, exactly as Karen's Grandma used to do. There is little waste in the process. The apple cores and peelings are fed to local goats and chooks. The eggshells are used in an aviary and packaging is reused as much as possible. Even the empty Brandy bottles are given away to other businesses to be reused. Karen wants to support as many local producers as she can.
It is important to Karen that her puddings are offered to people at a fair and reasonable price so that more people can enjoy them. For Karen, it's not simply about making money it's about keeping people employed and letting as many people as possible enjoy beautiful handmade puddings.
Karen and Gerard now have two daughters, both are often seen behind the market stall. Karen's Mum is also a familiar face behind the market table. There are often three generations working in the PUD FOR ALL SEASONS kitchen along with regular staff members, who Karen prefers to call friends. Karen couldn't run such a successful business without the help of a great team.
PUD FOR ALL SEASONS, puddings and dessert sauces are great for Christmas but nothing beats a hot pudding, full of fruity sweetness and amazing flavour in Winter.
---